Winners - 2018-2019 Competition
BMC wants to thank all of our student competitors this year for a very impressive performance and competition season. We are pleased to announce this year's winners in each of 2 categories - Piano and Strings. Congratulations!
First Prize Winners - $1,000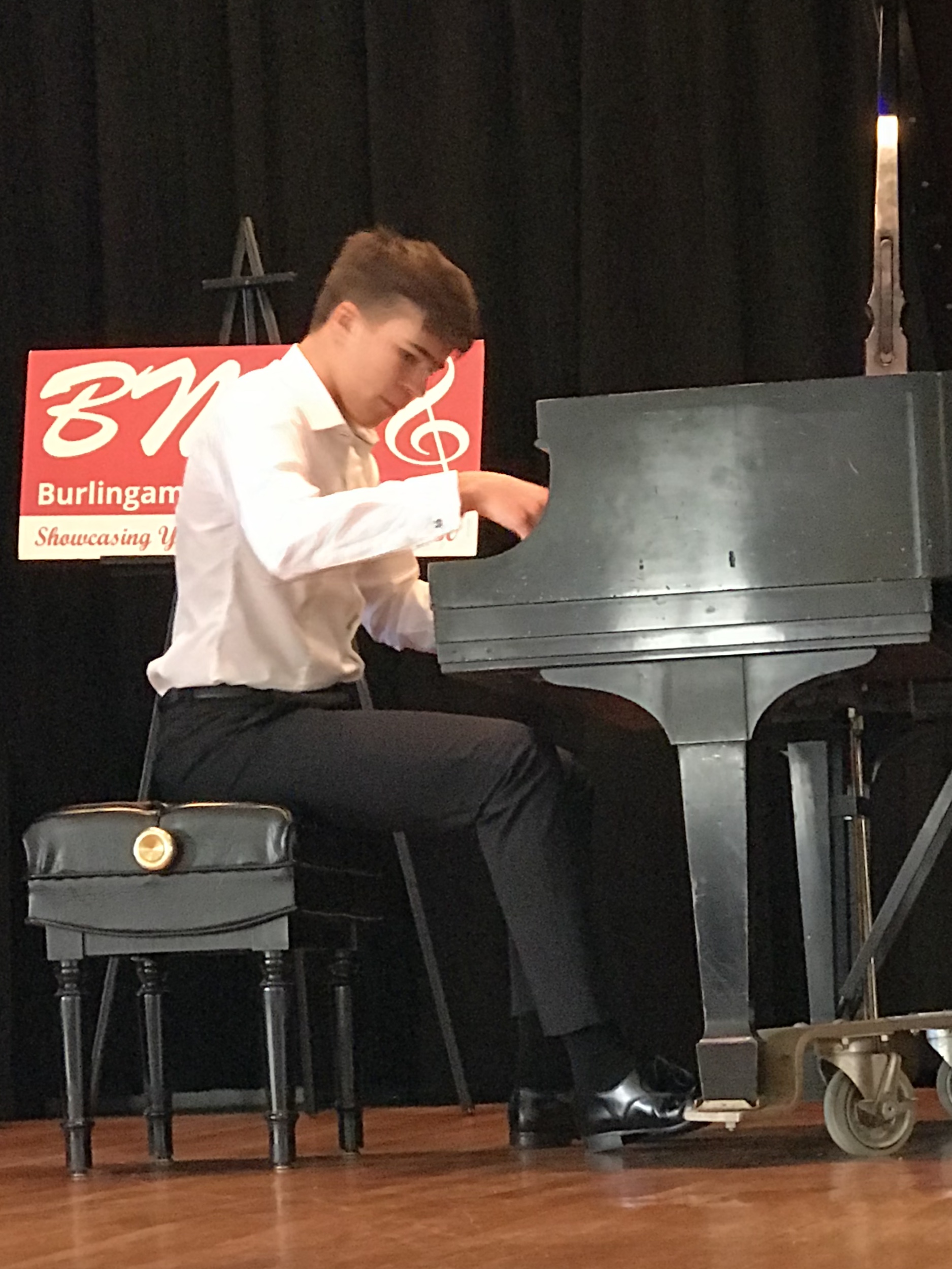 Leon Winters Award: First Prize
Leo has performed twice at the Junior Bach Festival and has won numerous other awards, including first place at the San Francisco Chopin Festival and the New West Symphony Quick Bowman Piano Competition. Leo also studies voice and has won awards including the National Association of Teachers of Singing - Bay Area Singing Festival for Classical Voice. He has performed theatrical roles including Gaston in Beauty and the Beast and Pugsly Addams in The Addams Family.
Leo's teacher is Dr. William Wellborn
Patricia Kirkbride Award: First Prize
Sabrina has appeared as a soloist with the Palo Alto Chamber Orchestra, performed in the Junior Bach Festival. She has won numerous awards including first place in the Korea Times Music Competition, U.S. Open Music Competition, the U.S. International Music Competition and the American Protege International Competition (performing at Carnegie Hall). She has performed in masterclasses for Gerardo Ribeiro, Klaudia Szlachta and Bayla Keyes. She is a menmber of the San Francisco Symphony Youth Orchestra. Sabrina also enjoys creative writing and producing her school's yearbook.
Sabrina's teacher is Davis Law.
Second Prize Winners - $800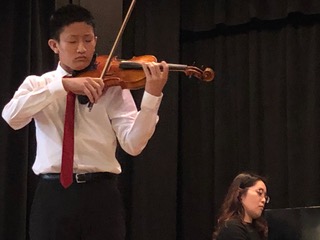 Patron of the Arts - 2nd Prize
Matthew has won numerous prizes including first place in the Pacific Musical Society, the U.S. Open and the U.S. International competitions. He is a member of the Stellata String Quartet, a group within Susan Bates' Young Chamber Musicians.
Matthew's teacher is Elbert Tsai
Patron of the Arts - 2nd Prize
Ryan has won numerous competitons including the Golden Era of Romantic Music Competition and the Virtuoso Internation Competition. He has performed at the Junior Bach Festival on piano, violin, cello and organ.
Ryan's teacher is Erna Gulabyan.
3rd Prize ($600 each) in Memory of Diane Kazar
Conor Padmanabhan has won numerous awards including the Great Composer's Competition, the Enkor International Music Competition and the Sierra Nevada Guitar Competition.
Conor's teach is Scott Cmiel
Kai Xu is not only a pianist but also a composer. He was a finalist in the National Association for Music Education Electronic Music Composition Competition.
Kai's teach is Dr. Willliam Wellborn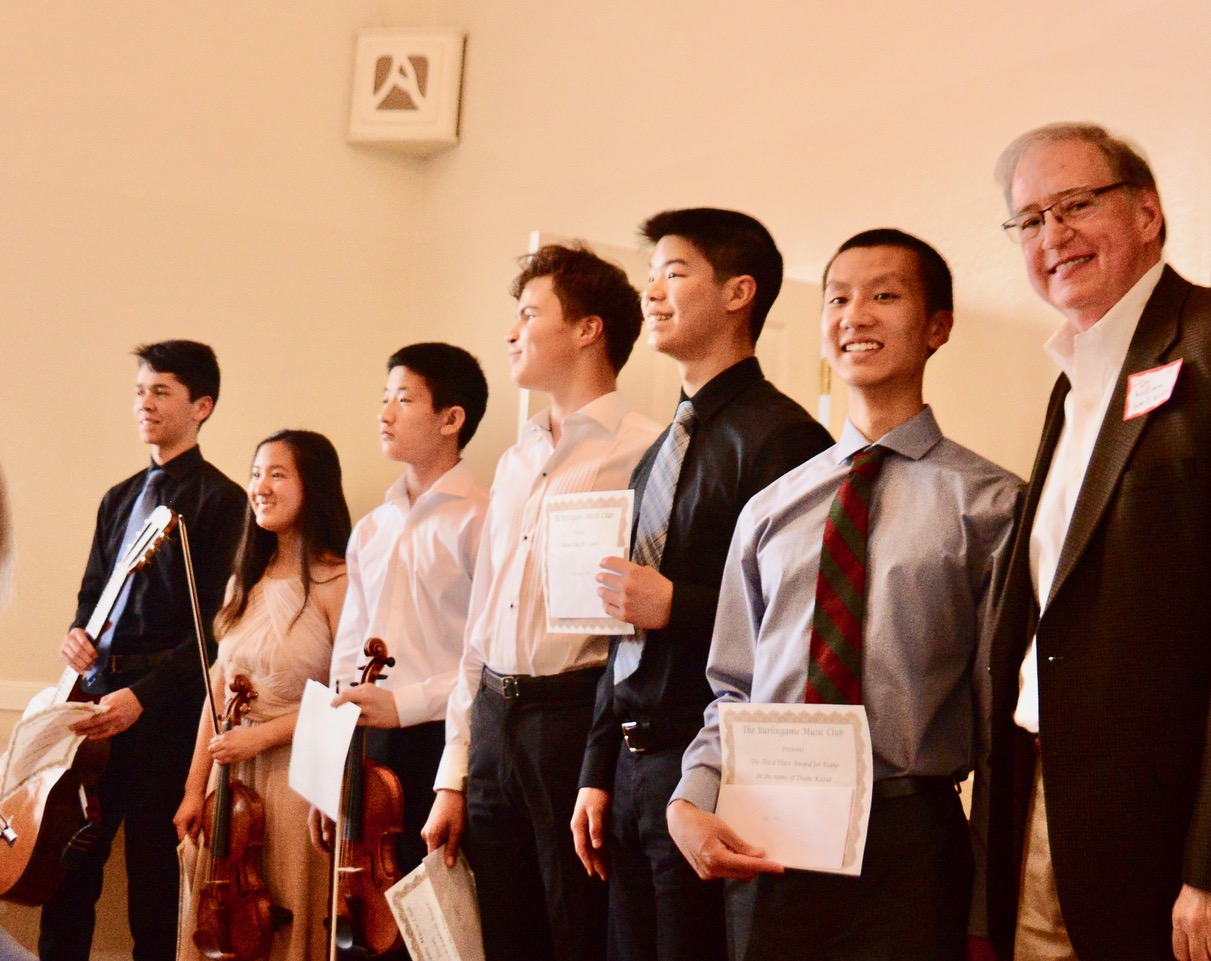 2019 Winners Final Performance
All of our winning students gave a wonderful performance at the last member meeting in May. Our winners were joined by Kai and Leo's teacher, Dr. William Wellborn. Congratulations to all our talented students and teachers!
And a wonderful Time was Had by All!
Another highly successful competiton season comes to a close. Many thanks to our Awards Committee Co-chairs, Barbara Braun (left) and Steve Cady, our members and the ever supportive parents and families of our students.
Winners - 2017-2018 Competiton
For more information on the final performance by the winners please click here.
Our special thanks to this year's judges: Barbara Breeden, Sharon Davis and Ruby Pleasure.
Lauren Chambers, Flute
Patricia Kirkbride Award First Prize - $1,000
Lauren has participated in the El Camino Youth Symphony for 2 years and the California Youth Symphony for one year.
Previous competitions have included
First Place in the Palo Alto VOCE competition for senior winds

First Place in the same competition for Senior Ensembles for 3 years.

Second Place in 2016 in the State VOCE competition for senior ensembles

Third Place in 2015 in the State VOCE competition for senior ensembles
Lauren's teacher is Tomiko Tsai.
Stephanie Chee, Voice
President's Award in honor of Ruby Pleasure First Prize - $1,000
Stephanie has been studying music for 5 years. She studied for 2 summers at the Tanglewood Institute in Boston and at the Metropolitan Opera Guild in New York in 2017.
She has won several awards including:
First place in the American Protégé Vocal competition in 2015

Second place in 2017 in the National Teachers of Music competition for the Bay area this year

Third place in 2017 in the Schmidt Youth Vocal competition
She has performed many opera scenes as well as performing in Into the Woods and Guys and Dolls.
Stephanie's teacher is Amy Heumann.
Adele Adler Award Second Prize - $800
Emily has had long experience with choral groups performing in 2 Cantabile Youth Singers of Silicon Valley groups: Aria and Vocalise. In July 2017 Emily performed at the 11th World Symposium on Choral Music in Barcelona, Spain. Emily won 1st prize in the Great Composers Competition, Music of the 20th Century. She has performed in the Menlo School productions of Avenue Q and Fiddler on the Roof.
Emily's teacher is Annelle Delfs.
Leon Winters Award Second Prize $800
In the summer of 2017 Annie earned 3rd place in the United States International Music Competition at Stanford, which is sponsored by the Chinese Music Teachers Association of Northern California
She has also won Command Performance awards for California Music Teacher's Association and the Association of Christian Schools competitions.
Annie's teacher is Troy Gunter.